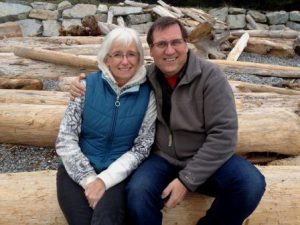 Ken and Rhonda first connected with Island Gospel Centre in August 2016 when they were called to be interim pastors during a time of lead pastor transition. The congregation asked them to stay and they began full time ministry as pastors effective January 1, 2017.
Ken and Rhonda's passion is to see people of all ages come to know God's love and grace, their identity in Christ, and be effective in the calling and purpose God has for them. Their desire for the church is to be a healthy, disciple making, Christ centered, Holy Spirit empowered body that gathers in love and unity and reaches out to a needy world.
The Lamdens have been in vocational ministry for nearly 30 years following a 15 year career in consulting engineering. They began their ministry as an assistant pastor in Bethel Pentecostal Church in Ottawa and then relocated to Evangel Pentecostal Church in Powell River, BC where they pastored for 23 years. They both were born and raised in farming communities of central Alberta. They met in high school, married at age 19 and are now in their 46th year of marriage. They have loved to travel, camp, canoe and cycle and although not 'hard core' continue to do so. They are very proud of their four children and spouses and can't help but gloat over their ten lovely grandchildren.
They are enjoying pastoring Island Gospel Centre and connecting more and more with the Lighthouse District community and surrounding areas. God is good! Life is good!